Custom orders and corporate gifts
At Garcia Nevett, our chocolate concierge can help you with corporate gifts or chocolate for special events.
Contact Us
Give the Gift of Chocolate
Stand out with a beautiful box of luxury, award-winning fine chocolates made right here in Miami, FL. Garcia Nevett offers a whole range of gift options, from small keepsake baskets with 2 or 4 handmade chocolates to deluxe boxes of 16 and 25 chocolates. Boxes can be customized with your logo, name or monogram. Individual chocolates can also me customized.

For a free sample contact us anytime by email here or phone, and we will work with you on creating the perfect gift. Large orders will get a special 10% discount.
At Garcia Nevett we understand the importance of putting your best foot forward in all occasions. That is why we offer an array of options for corporate gifts and events. 
Contact us for further information at info@garcianevett.com or give us a call at (305) 749-0506.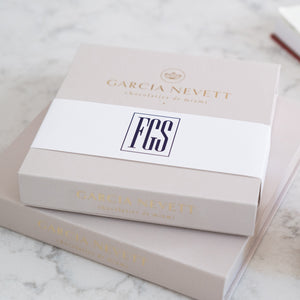 Make your celebration really special with a beautiful assortment of chocolates as part of your dessert table or offer your guests a delicious gift to take home with Garcia Nevett's fully customizable range of 2ct and 4ct chocolate boxes. Go the extra mile and have your own personal name or monogram on the chocolate itself.
Download our gift guide
"Garcia Nevett Chocolates are a great option for client and employee gifts. We have used their corporate services a few times already and plan on continuing in the future!"
"We have worked with Garcia Nevett for our corporate gifts for a few years now and we are very satisfied. They work with us to personalize our boxes and have always been professional and friendly. We are happy to recommend them."
"I worked with Garcia Nevett for our corporate gifts. Their responses to our questions were timely and detailed. They kept us updated on the status of our project and were easy to work with. We had favorable client feedback."
"Nothing says "thank you" like a box of high-end chocolates. Our team looks forward to our end of year gift and wonders what The Hungry Post chocolate flavor will be. Perfect custom gift to feature our logo and show our gratefulness to our wonderful team."
"We've worked with Susana and Isabel for the past few years. Their chocolates and packaging are of the highest quality. Our clients and friends are always happy with their gifts."